What can we help you find?
default
Investors
No
Spire embodies a promise to bring people and energy together in ways that enrich lives and create value for our shareholders.
Today Spire is a strong and growing energy company with five gas utilities across three states, serving 1.7 million homes and businesses.
Our growth is driven by a clear strategy and a strong commitment to do what we promise - for the sake of our customers, our employees and our investors. By consistently delivering on our strategy, we have grown to be the fifth-largest publicly traded gas utility in the country, based on the number of homes and businesses served. 
default
our story 2018
Energy in motion
No
At Spire, we're always in motion, working to advance our people, our service and our performance by using our energy to explore new opportunities and innovative ideas for the future.
"We are keeping our promises to customers and investors. We are serving more people and communities better than ever, while delivering increased shareholder value through investing in and organically growing our natural gas business." -Steve Rasche, Executive Vice President and Chief Financial Officer
Attractive investment characteristics
Growing earnings, cash flow and dividends
Solid balance sheet, ample liquidity and solid investment-grade credit ratings
Outlook for long-term annual EPS growth of 4%-7%
Name
Dividends Per Share 2019
Our growth strategy
Over the last five years, we've transformed our company, increased our scale and expanded our geographic footprint. We continue to be driven by our desire and strategy to grow through: 
Growing organically
Investing in infrastructure
Advancing through innovation
Name
Our Growth Strategy - Half Width
default
Name
Above and beyond - Columns
Above and beyond at every turn
To keep our promises and live into our mission, we execute on our financial strategy with precision. With a strong and experienced management team in place we are doing just that by driving earnings growth. This is how we go above and beyond for the people we serve today, and those we aspire to serve tomorrow.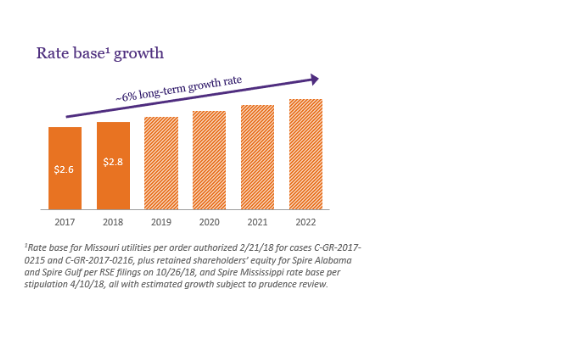 Growing organically
It all starts with growing organically - increasing our customers, improving retention and further penetrating the markets we serve across our three-state footprint. We are driving top-line growth and using our increased scale and shared services structure to achieve cost efficiencies and higher margins.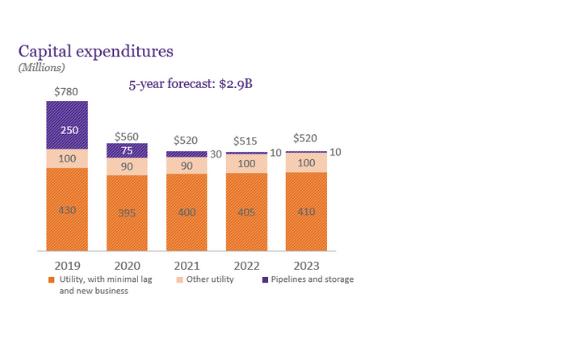 Investing in infrastructure
And we're growing through investing in infrastructure upgrades for our gas utilities, as well as the growth of our gas-related businesses. Our five-year (2019-2023) capital expenditures forecast reflects a total investment of $2.8B driven by pipeline replacement for our natural gas distribution system in AL, MS and MO, the construction of Spire STL Pipeline, and the development of Spire Storage.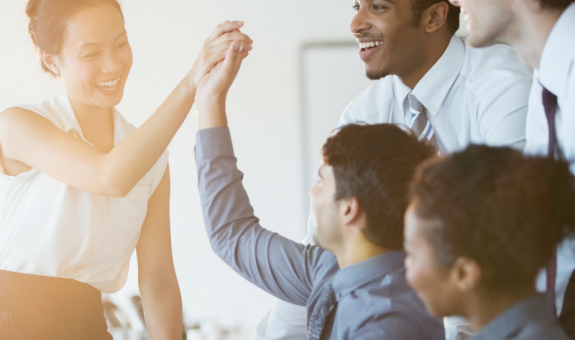 Acquiring and integrating
Over the last several years, we have grown and transformed our company by successfully acquiring and integrating gas utilities. Our proven ability to integrate acquisitions well stems from our focus on bringing people and technology together in ways that add value for our customers and our shareholders. We now have the scale necessary to serve as a platform for our broader growth ambitions including achieving our earnings growth targets through our organic growth initiatives and investment plans.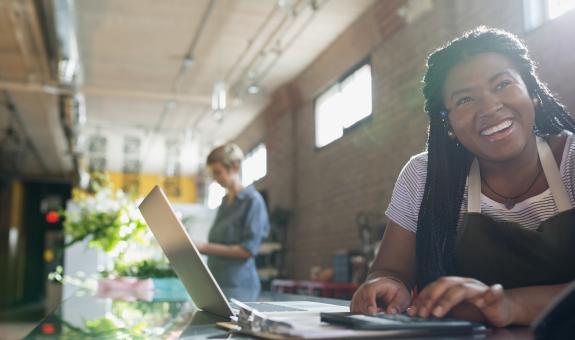 Innovation and technology
Through options like a mobile-friendly website, we are making it easier for them to reach us when and how they want to and to manage their account on the go.  We are also implementing technology upgrades to improve real-time connectivity for our field teams, leading to improved efficiency and an improved ability to serve our customers. At the same time, we have launched an effort to standardize our information technology platform company-wide, which will continue to drive improvements in performance and service quality.